June Outfit Look Book
The summer trend that I am absolutely loving right now are these wide leg, cropped pants! I am seeing them everywhere and in every color! I have linked these exact pants below. I really like them because they are super light and airy for summer, and since they're white, they match almost everything! These pants look particularly good with brown/tan/camel/black neutrals, since they have these beautiful tortoise-shell buttons on the front, which play off of those colors. These pants look super cute with both heels and flats which I have demonstrated in the photos below. Also, since they are not lined, I advise wearing something underneath, like these spanx (https://rstyle.me/n/dm3tgccd2mf) (which I am wearing in these photos!). P.S. I just recently discovered the miracle of spanx. I have heard of them before, but never tried them. My verdict: they're amazing and I have no idea where they've been all my life! They are perfect for wearing under thinner or lighter fabrics or whenever you need extra coverage.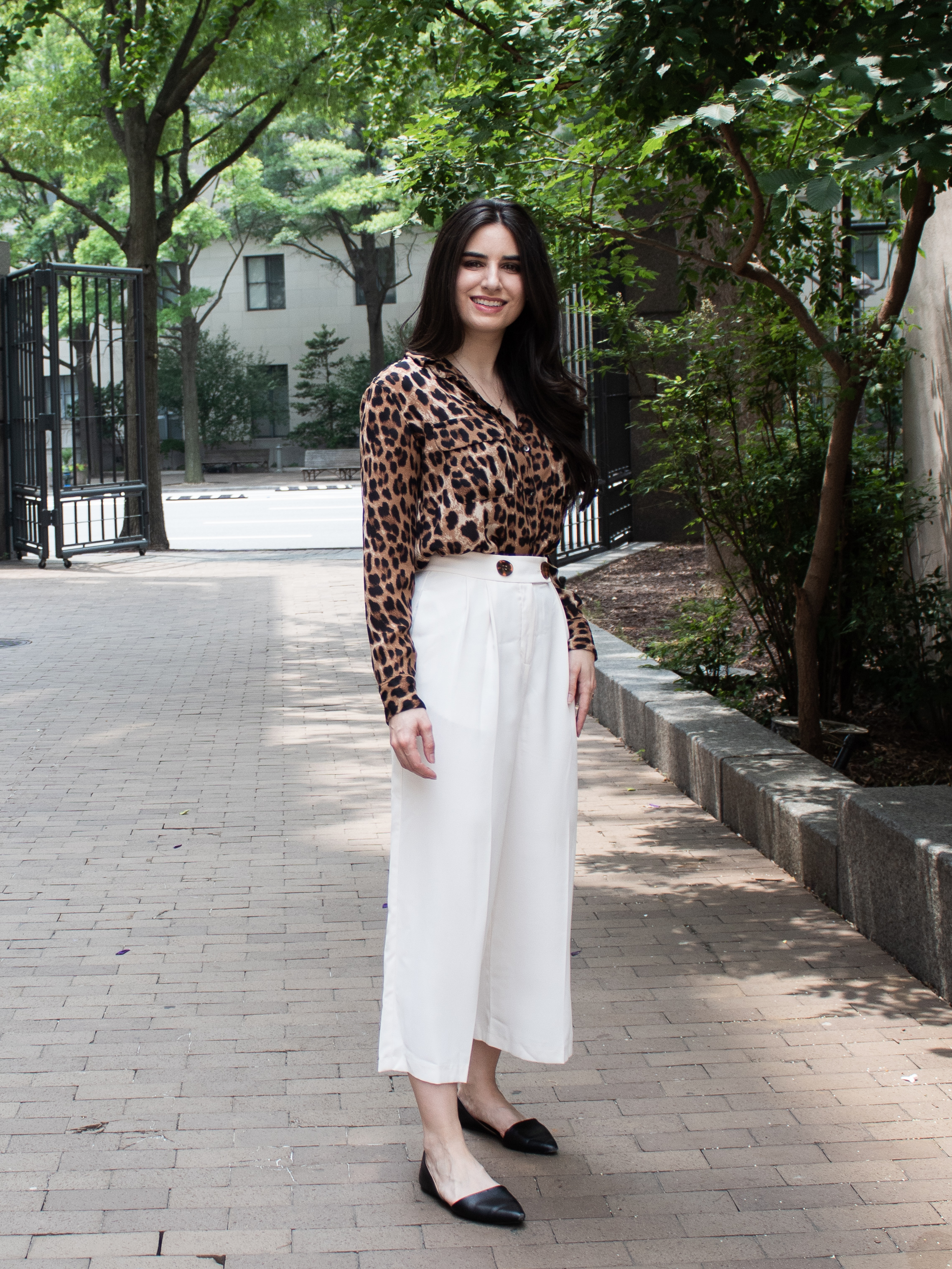 This dress was a bit of a splurge for me, and I initially bought it and told myself I would just try it on and then return it. However, I ended up loving it and have decided to keep it. It is definitely a showstopper, but like in a reserved way, which is exactly what I like to aim for in the workplace. I have linked some similar dresses in this same color so no worries if you don't want to spring for the splurge! I am just loving this baby blue color for June though. Perfect for work, but also baby showers, daytime events, or even evening ones.
This jumpsuit is a great alternative to a suit and looks lovely with a camel/neutral jacket. This one I'm wearing is from Gal Meets Glam. It has really pretty details, like pearl beads that are sewn into the border of the neckline and around the bottom of the sleeves. I also love that it is fully lined! (high five!!) I paired this with a tan belt, neutral heels and camel hued jacket.
One of the best things about these tapered pants is there are no zippers or buttons, just elastic! They are super comfy and I am loving the fun colors for summer. The only drawback is the fabric is kind of thin and they're not lined. So, I definitely wear my spanx (https://rstyle.me/n/dm3tgccd2mf) with these if I'm at work! I paired these pants with a dark forest green, long sleeve top, but they would pair nicely with any neutral. The fabric of these pants also appears to be fairly wrinkle-resistant, which is a plus! I bought these from Nordstrom, and while they are out of this specific color, I linked to the same pants in a couple different colors, and then a few different styles in this light green color.